PAKISTANI CULTURE
---
---

Background

Institutions

Lok Virsa

NAFDEC

National Archives of Pakistan

Quaid-i-Azam Academy

Department of Archaeology and Museums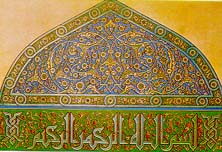 The culture of Pakistan, fundamentally a derivative of the universal Islamic civilization, bears deep imprints of its ideology and history.

The people of the past have bequeathed a magnificent heritage to present generations.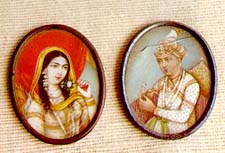 Pakistan has been the cradle of a civilization that dates back more than five millennium. Over the centuries, through successive waves of migrations from the north-west, as well as by internal migrations across the subcontinent, aryans, Persians, Greeks, Arabs and Mughals came and settled in this region. However, it was Islam and Islamic traditions that finally took roots and formed the mainspring of Pakistan's cultural heritage.

Muslims from the earliest days, built cities and citadels, forts and palaces, mosques and madrassas, tombs and mausoleums, which are market by simplicity and grandeur, with open spaces and abundance of light in accordance with the Islamic concept of man's direct and open relationship with his Creator.

Pakistan National Council of Arts

Performing Arts Division


Visual Arts Division

Publication Research & Reference Division
It is a great challenge for the posterity to preserve and promote such an immense treasure of the Pakistani culture. There have been established several government agencies to perform a given set of functions in this sphere of human activity.
Pakistan National Council of the Arts (PNCA)
Pakistan National Council of the Arts (PNCA) is a national institution entrusted with the promotion of all genres of the arts, improve knowledge, understanding and practice of the arts, plan, establish and run art academies, exhibition halls, auditoria, art galleries including the building of National Art Gallery in the capital, organise national and regional ensembles for performarance within the country and abroad.
Performing Arts Division (PAD)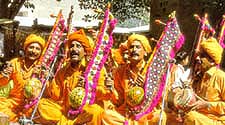 The Performing Arts Division of PNCA looks after concerts, dramas, puppet theatre etc. The Division held more than 35 concerts, Children shows, Ladies Mehfil-e-Milad including grand open air concerts at Liaquat Bagh on Pakistan Day and Independence Day.
The Visual Arts Division is concerned with the promotion of visual arts, namely calligraphy, paintings, sculpture etc. The Division held more than 20 paintings exhibitions at the National Art Gallery and few group exhibitions at Shakir ali Museum, Lahore which run under its control.
The VAD also runs Galleric Sadequain Islamabad which preserves painting of Pakistani renowned painter Sadequain. The National Art Gallery has a rich collection of contemporary works of art of Pakistan and has the capacity to display upto 400 art works.
Second National Exhibition of Calligraphy was held during the month of Ramzan (1994) in which calligraphists from all over Pakistan participated. Besides, the 9th International Photographic Exhibition was also held at the National Art Gallery, Islamabad in which 35 countries participated.
Publication Research and Reference Division(PRRD)
The PRRD of Pakistan National Council of the Arts coordinates with other components of the Council regarding projection/dissemination of their activities. Four books on art and culture were calligraphed, edited and prepared for printing. More than 45 books have already been produced by the Division. The topics of the seminars were "Democratic values and our Cultural Attitudes", "Preservation, Promotion and Perpetuation of National Cultural Heritage" and "Visual Arts in Pakistan, Indigenous, Derivative or Cross Cultural" PNCA has set a new tradition in its regular activities for the promotion of art and culture in the country through dialogue, and held many sessions called Friday Forum.
Cultural Relations
With a view to project Pakistani culture abroad and to promote friendly relations with foreign governments, Pakistanhas signed Cultural Agreements with 59 countries. Under the agreements, Cultural Exchange Programmes for two or three-year periods are periodically signed specifying the items desired to be exchanged during that period. Pakistan continues to take part in important functions in other countries of the world by sending cultural troupes, exhibition of paintings, archeological and folklore artifacts.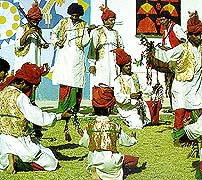 The National Institute of Folk and Traditional Heritage popularly known as Lok Virsa meaning "folk heritage" has made notable achievements in the field of research, collection, documentation, preservation and dissemination of Pakistan's folklore, oral traditions and regional culture.
Programming Centres
Lok Virsa has set up several programming centres associated with its role and functions. The Virsa Research Centre conducts field surveys for recording folk traditions through mobile unit and a network of field collectors.
Sound Archives
These records are systematically stored in the Sound Archieves, which contain over ten thousand recorded tapes of narrative legends and tales, romances and songs, games, festivals, rituals and sayings of sufi and saints in the mystic tradition.
Publishing House
The Publication House publishes books and cultural products on Pakistan, which include pre-recorded cassettes, transparencies, viewcards and sound slide kits. Over one hundred books and more than three hundred cassette titles have been published by Lok Virsa.
Lok Virsa Museum
The new Lok Virsa Museum contains a rare collection of folk arts and ethnological artifacts. This storehouse of living tradition and art comes alive every autumn (in the first week of October) with a week-long national festival of Artisans-at-Work known as Lok Mela in Islamabad. Countries from the South Asian region also participate in this festival organized by Lok Virsa.
National Film Development Corporation (NAFDEC)
NAFDEC is a public limited company in which the Federal Government holds majority shares. It aims at providing healthy entertainment to the public through showing quality films, promoting export of Pakistani feature films, holding film festivals under Cultural Exchange Programme in Pakistan, participating in foreign film festivals, arranging national film awards and liaison with the international film organizations
Authority for Preservation of Moenjodaro
The Authority for the Preservation of Moenjodaro(APM) is executing the Master Plan for preservation of Moenjadaro which aims at saving the 5000 year old important landmark of human civilization. The Master Plan involves work such as construction of spurs, lowering of water level, conservation of structures, plantation and landscaping.
The Government has constituted an International Consultative Committee(ICC) comprising national and international experts to review annualy the work under the Master Plan.
Central Board of Film Censors (CBFC)
The Central Board of Film Censors (CBFC) is an attached department of the Culture and Sports Division. The head office of the Board is in Islamabad.
Film is a popular means of entertainment. Since it can influence people's thought and behaviour to a considerable extent, there is a universally acknowledged need to have a code for censoring of films. But the process has to be based on realism and rationality and that is the principle that Pakistan's Central Board of Film Censors follows.
The films produced in Pushto language and those imported through commercial or diplomatic channels are censored at Islamabad. For rest of films produced in Pakistan, the producers have an option to apply to any of the Boards for certificaion of their films.
The Department of National Archives was established at Islamabad in December, 1973 after bifurcation of the combined Directorate of Archives and Libraries which was working as a sub-office of the Ministry of Education at Karachi since 1951. The Department is under the administrative control of the Minstry of Culture, Sports and Tourism.
Basically, the Department is responsible for the preservation of A-category i.e. historical records of various Ministries/Divisions of the Federal Government as well as private collections of national significance. The Department has so far received over 30,000 "A-category" files from various Ministries/Divisions which have since been processed in addition to a good number of private collections including Quaid-I-Azam Papers, Fatima Jinnah Papers, Isphani Collection, Shamsul Hasan Collection (Photocopies) etc. The Quaid-I-Azam Papers are being edited for publication in successive volumes.
The Department of National archives has also preserved a large number of newspapers, magazines, periodicals, gazettes and gazetteers including government reports and publications. The Civil and Military Gazette (1873-1963) and the Sind Gazette(1884- 1949) are the most rare collections of newspapers of the National Archives. The accession lists of almost all the archival holdings have been published and are available for sale with the National Archives, Islamabad and the Publications Branch of the Government of Pakistan, Karachi.
The Department of National Archives is playing a very prominent role in creating archival awareness in Pakistan by conducting short and long-term training courses, seminars, symposia, workshops, lectures and exhibitions of archival material/rare photographs relating to the Quaid-I-Azam and the Freedom Movement. It has also played a significant role in the Golden Jubilee Celebration of Pakistan Resolution of 1940 by mounting an exhibition of rare materials in the capital cities of the world including New York, Toronto, London, Paris, Tehran and Dubai. The Department of National Archives has organized 15 short-term training courses in Archieves Administration, Conservation and Restoration and Microfilming in addition to regular annual workshops on Record Management since 1990. An archivist of the National Archives Organization of Iran was deputed to get practical training from the National Archieves of Pakistan. It is in a position to impart practical training to individuals in Microfilmming and Conservation.
The Quaid-I-Azam Academy, Karachi was established in 1976 to mark the 100th Birth Anniversary of Quaid-I-Azam Mohammad Ali Jinnah. Itwas set up to undertake, organize and promote research on cultural, religious literary, linguistic, social, economic and political aspects of the Pakistan Movement, and life and works of the Quaid-I-Azam. The Academy has an Executive Committee and a Board of Governors for supervision and implementation of its objectives.
In pursuance of these objectives, a specialized Library on the Quaid-I-Azam and the Freedom Movement has been set up where facilities to scholars and researchers working on the period are being provided. The fast frowing library currently contains approximately 20,000 specialized books. In addition, it has secured a number of rare pamphlets, microfilms and photocopies of Quaid-I-Azam Papers, the Freedom Movement Archives, and the Shamsul Hasan, Nishtar, Nawab Sadiq ali Khan collections, Collected Works of Mahatma Gandhi, Sardar patel's Correspondence, Encyclopaedia of Indian National Congress, volumes of the Indian annual Register, Who was Who (1897-1980) volumes, British Parliamentary Papers, Kessing's Archives, Simon Commission Reports, Selections from Linlithgow, Lothian, Simon, Hailey, etc., Cllections, Microfilms of Pre- Partition Newspapers, i.e. Morning News, Dawn, Indian Public Opinion, the Mofussilite, Hamdard, Comrade, Pioneer, Civil & Military Gazette, the Star of India, the Statesman, Legislative Assembly Debates (1921-1947), Council of State Debates (1921-25), Command Paper (1900-47). Efforts are being made to further strengthen the Academy's Library.
The scholars and researchers from the USA, Australia, the Gulf States and India besides those from Pakistan have worked at the Academy's Library.
Publications
Since 1978 the Academy has published 52 books/booklets i.e. 16 in English,17 in Urdu, 9 in Sindhi, 5 in Balochi and 5 in Pushto. Several of its publications have gone into second and third edition. One of its publications has been adjudged as the best book on Quaid-I-Azam for the President's Award of Rs. 60,000 and a Gold Medal.
Department of Archaeology and Museums Karachi
The Department of Archaeology and Museums, Karachi under the Federal Ministry of Culture and Sports is the custodian of the nation's cultural heritage. The Department has diversed nature of functions at the national as well as international level. The main functions of the Department can be categorised as follows:-
1. Preservation and conservation of historical and archaeological monuments. 2. To cary out explorations and excavations. 3. To collaborate with foreign archaeological missions working at various sites of Pakistan. 4. To control over movement of cultural property. 5. Establishment and maintenance of museums in Pakistan. 6. Treatment and restoration of antiquities. 7. Administration of Antiquities Act 1975. 8. Research on Epigraphic and Numismatic and other relevant fields of archaeology. 9. To arrange different seminars, symposia/workshops at national and international level. Establishment and Maintenance of Museums
Museums play a vital role in the education of nations and serve as centres of visual instruction for the people and research laboratories for the scholars. It is the duty of the Department to establish and maintain different kinds of museums all over the country. The old museums like Harappa and Moenjodaro have now been reorganised on scientific lines in new buildings, designed and built in accordance with the modern concepts of museum architecture.
At the time of independence, Pakistan inherited seven museums. The development of museums in the country has been spectacular and the last four decades have seen quite a few museums being established and many others reorganized on modern line. A museum exclusively devoted to Allama Iqbal has been established at Javed Manzil, Lahroe and still another museum in the Quaid-I-Azam House (Flag Staff House). Karachi is coming up.
Research and Publications
The Department of Archaeology is basically a research institution. The result of several research works like study of architecture, epigraphy, numismatics, interpretation of antiquities uneartherd during archaeological excavations or collected in exploratory tours have been published from time to time for the benefit of scholars at home and abroad.
The Department has published five important monographs in order to meet the requirements of tourists, students, and visitors. It has also published 79 publications, duly documented and nicely illustrated in the form of brochures, guide books, catalogues etc.
Cultural Exhibitions
In an affort to project the rich cultural heritage of Pakistan, the Department of Archaeology have organized abroad a number of exhibitions. These exhibitions were held at Sri Lanka, Germany, France, Belgium, Austria, U.S.A. Japan, India, Italy and Holland etc. The amount of publicity in projecting nation's glorious heritage which has been achieved through these exhibitions has been of great value and produced excellent results. Besides, creating atmosphere of goodwill and friendship in the countries of visit, these exhibitions have provided an important medium to attract the attention of world intelligentia in the history of Pakistan.
*****
Back to Table of Content